I know that this super easy beef fajita recipe is just that – a beef fajita recipe- but I think of it as a fajita taco because I eat it in a tortilla. However, fajitas usually come with tortillas… so why aren't they all called fajita tacos? I don't know…. But in my mind if it's a taco it's already 10x more yummy!
This easy beef fajita recipe uses one pan and lots of colorful delicious ingredients!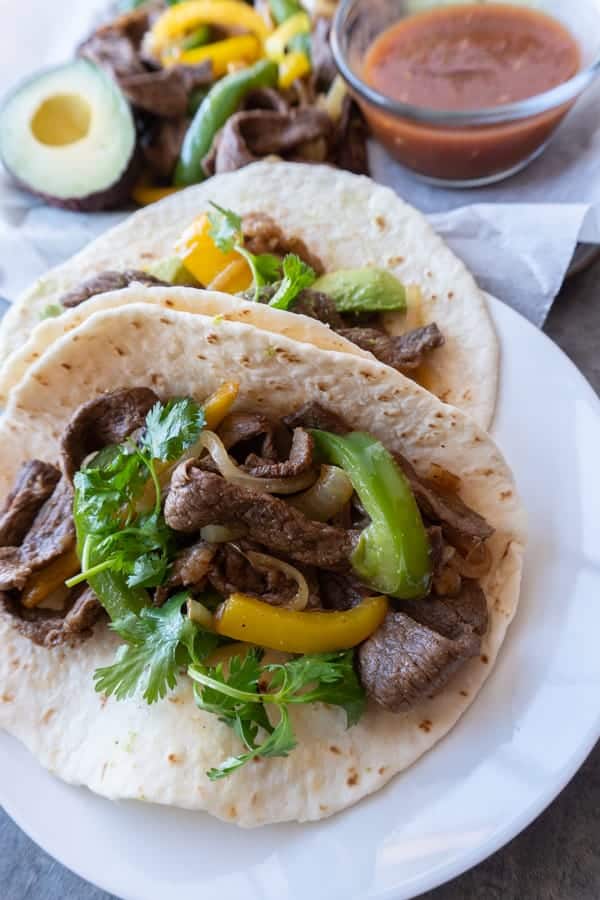 Do love easy fajita recipes like me?!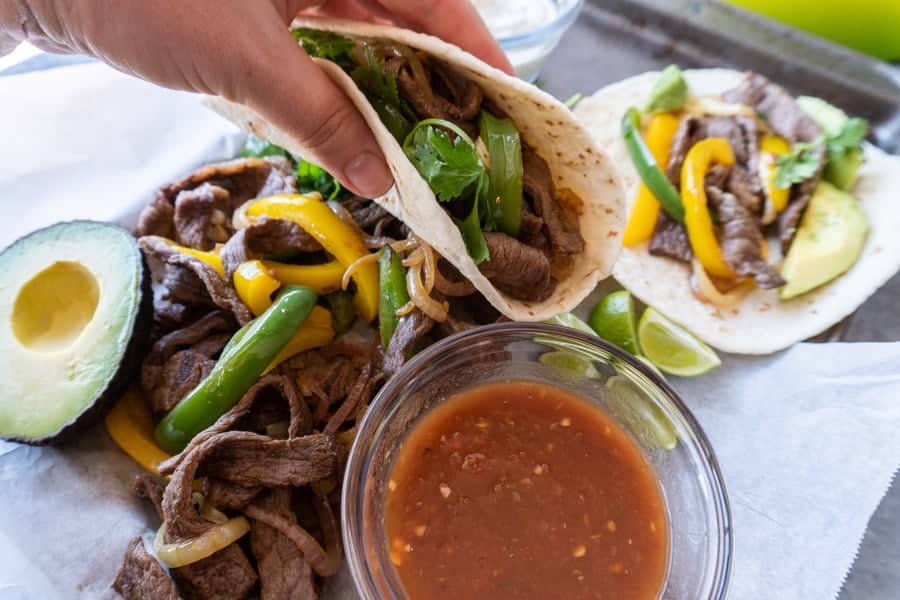 You all already know I love my steak tacos (anyone up for tri tip tacos yessss!). Well, I thought it was time to share my easy fajita recipe with you all which of course has steak in it. Chicken fajitas and shrimp fajitas are also very popular fajita recipes so if that is your meat of choice than use that instead!

How do you make beef fajitas?
Slice your steak into thin strips
Cook it with all the seasonings
Remove from pan, then add in the veggies
Cook the veggies
Eat!
How long should you marinate fajita steak?
For this recipe you don't need a marinade! You just add everything to the pan it cooks into a delicious easy fajita! The lime juice will add a tasty flavor and also break down the meat (tenderize it) when it cooks!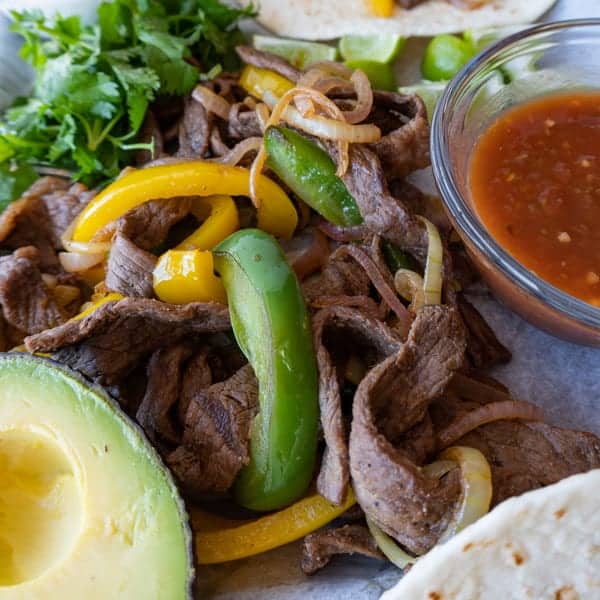 What kind of beef do you use for fajitas?
I like to use a thin steak like this thin sliced round. However, if you want a thicker steak try cooking up my easy steak and slicing it into strips.
Something I love about this easy fajita recipe (besides being one pan- can you say easy clean up!) is that it takes only 10-15 minutes to make!
A one pan (not oven!) delicious fajita recipe! What are you waiting for- make it for dinner tonight!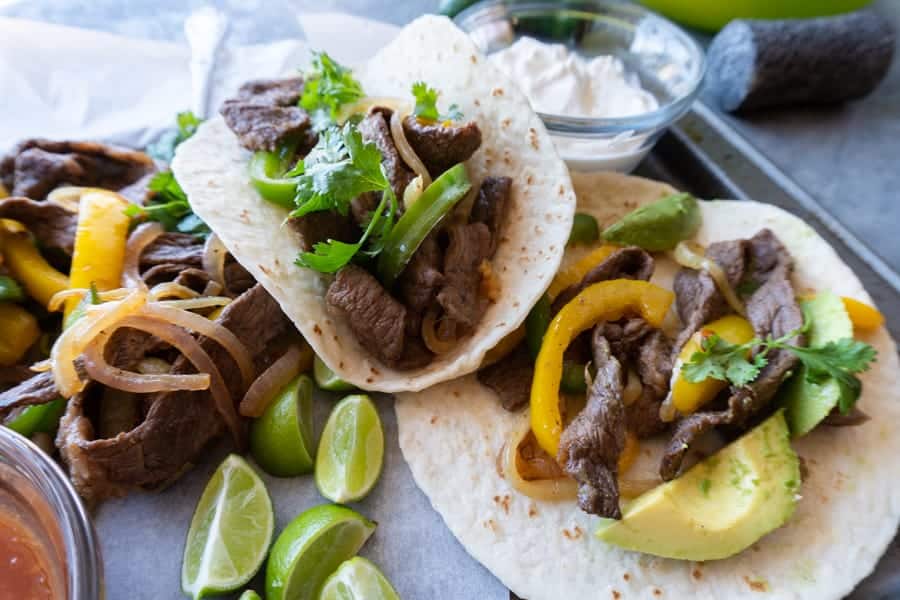 Are you a fajita person or more of a taco person? (Although I am both and have said I call these fajita tacos!) Let me know in a comment below!
If you like this recipe make sure to check out more of my favorite taco recipes like my carnitas tacos, street tacos, and my grilled shrimp tacos! So good!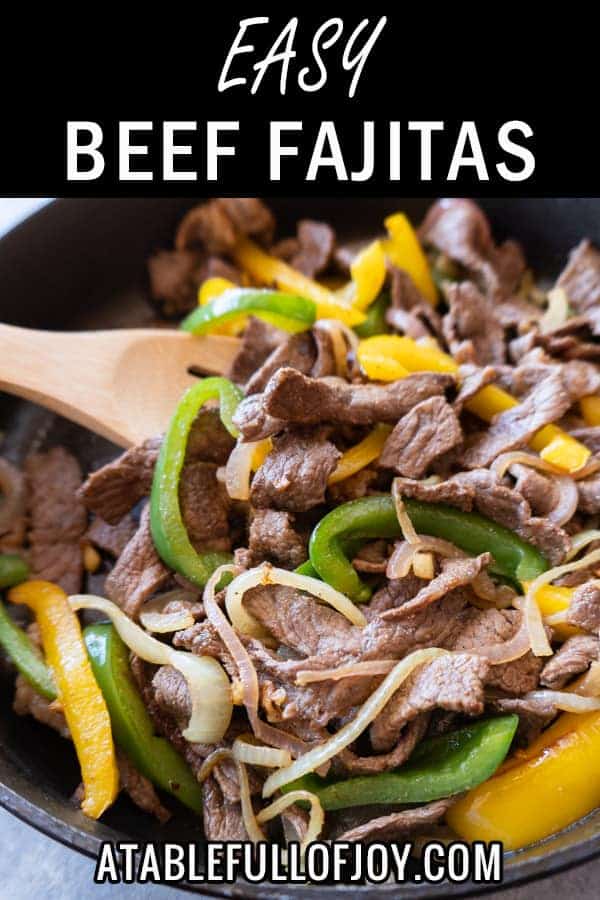 ---
BE SURE TO FOLLOW ME ON FACEBOOK, INSTAGRAM, PINTEREST, TWITTER & SIGN UP FOR MY EMAIL NEWSLETTER!
---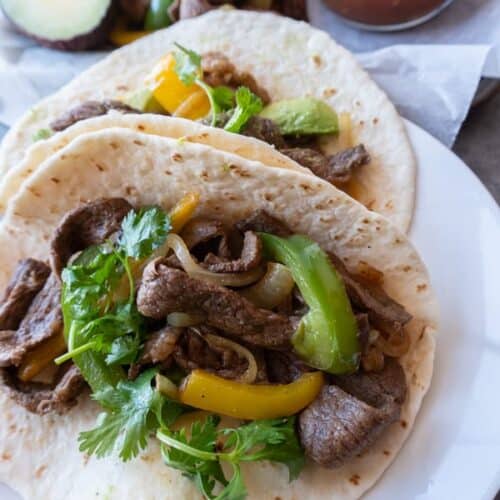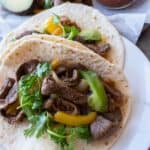 Easy Beef Fajita Recipe – Fajita Tacos
This beef fajita recipe is a one pan easy to make recipe with lots of flavor and served in a delicious tortilla! Dinner couldn't get any better!
Ingredients
1

lb

thin sliced round steak

2

tbs

Worcestershire sauce

1

tbs

liquid smoke

1

tsp

cumin

1

tbs

garlic powder

1

tsp

salt

1

tsp

pepper

½

tsp

paprika

1/3

cup

lime juice

½

yellow bell pepper

sliced into strips

½

green bell pepper

sliced into strips

¼

red onion

thinly sliced

¼

yellow onion

thinly sliced

4

garlic cloves

minced

3

tbs

olive oil

divided

Cilantro

Sour cream

optional

Avocado

optional
Instructions
Slice your steak into strips.

Add 2tbs oil to pan and heat over medium high heat. Once warm add your steak, Worcestershire sauce, liquid smoke all the seasoning, and the lime juice. Cook, stirring somewhat frequently until steak is cooked. About 3-5 minutes.

While meat is cooking, slice up your veggies and mince your garlic.

Once the meat is done remove from pan and add remaining 1 tbs of oil to the pan. Add in your veggies and garlic and sauté until cooked to your liking. I enjoy the veggies to be cooked down until slightly soft but still have a little crunch. It takes about 3-5 minutes until they are cooked to my liking.

Once veggies are done you can either stir the meat into them or keep them separate.

Serve everything on a warmed small tortilla with, cilantro, sour cream, and avocado.

Enjoy!