These rice crispy treats are fun to make even and more fun to eat! Shaped like the Kaboom Bots from the new Hearthstone Boomsday expansion, I thought these would start my Boomsday recipes off with an BOOM! Get it….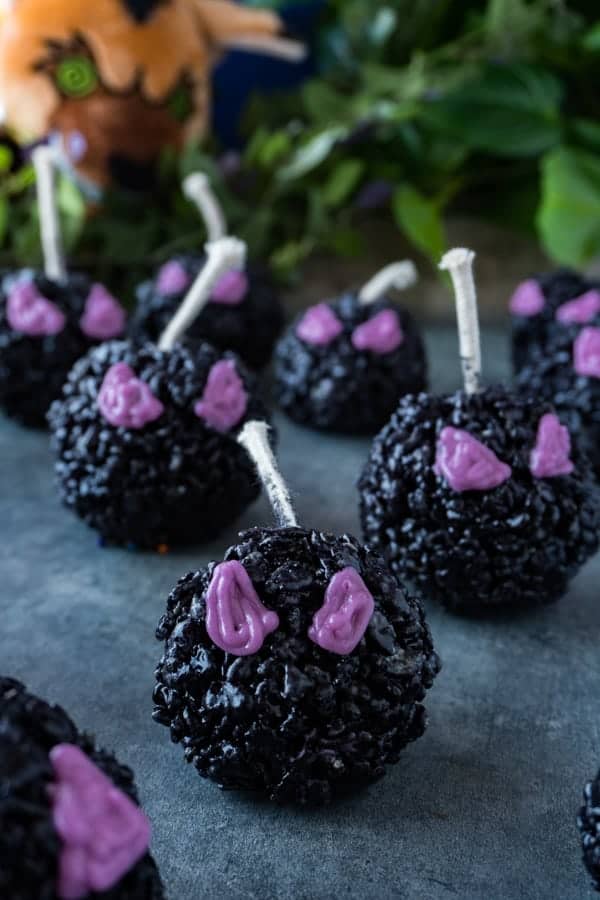 This recipe is inspired by the Hearthstone card Kaboom Bot! It's a 3 cost, 2 attack  2 health mech that has a deathrattle of dealing 4 damage to a random enemy minion!  Awesome!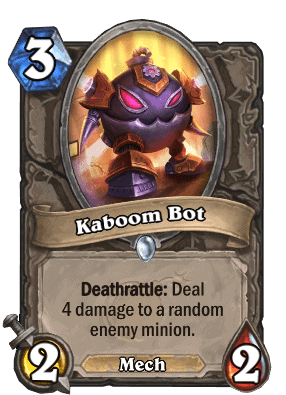 If you are wondering what Hearthstone is you can read more about it here! For more Hearthstone recipes check out my full Hearthstone Menu! You'll find other fun recipes like Chameleos Cinnamon Roll French Toast, Hot Sherazin Seed Dip (hot artichoke dip) and Acidic Ooze Limeade!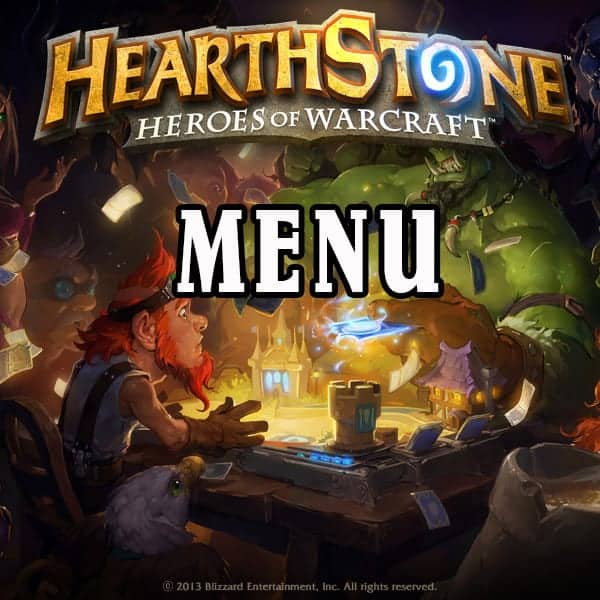 These rice crispy treats are exploding with fun!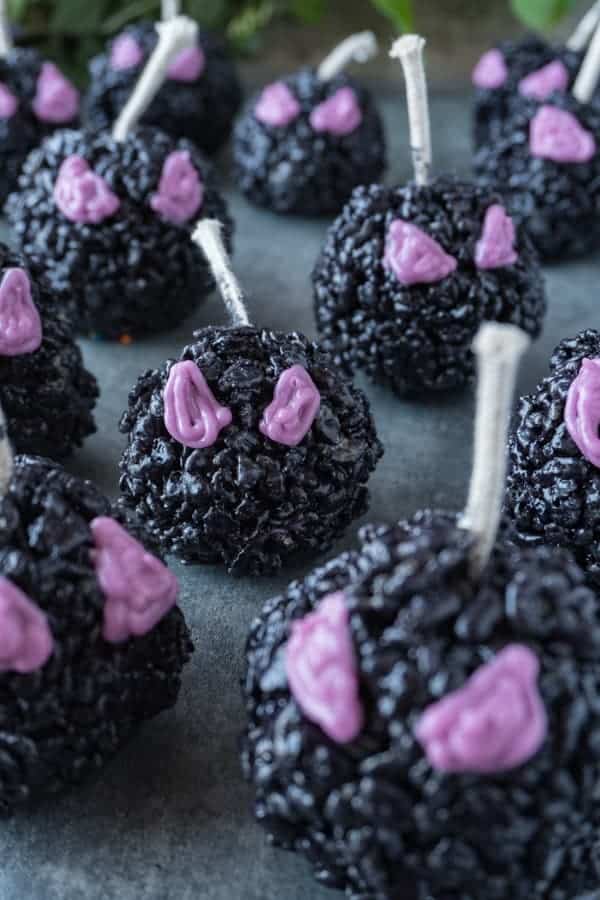 How to make rice crispy treats:
Melt butter over medium low heat, and then add in the marshmallow and black food coloring. Stir until fully melted!
Remove from heat and stir in the rice crispy treat cereal.
Shape into kaboom bots, adding in the string as a fuse, and decorate with frosting.
Eat up!

Do you need to refrigerate rice crispy treats?
Nope! You can leave them out until they are all gobbled up.

Are rice crispy treats gluten free?
Depends on the puffed rice you use. If you are sensitive to gluten make sure to get gluten free rice cereal from your local grocery store.
What if your rice crispy treats are brittle?
Brittle rice crispy treats, whether shaped or traditional bars, are typically the result of melting your marshmallows on too high heat. Low and slow is the best method. It may take a little longer, but it's so worth it!
Homemade rice crispy treats are easy to make and fun to shape it whatever you want!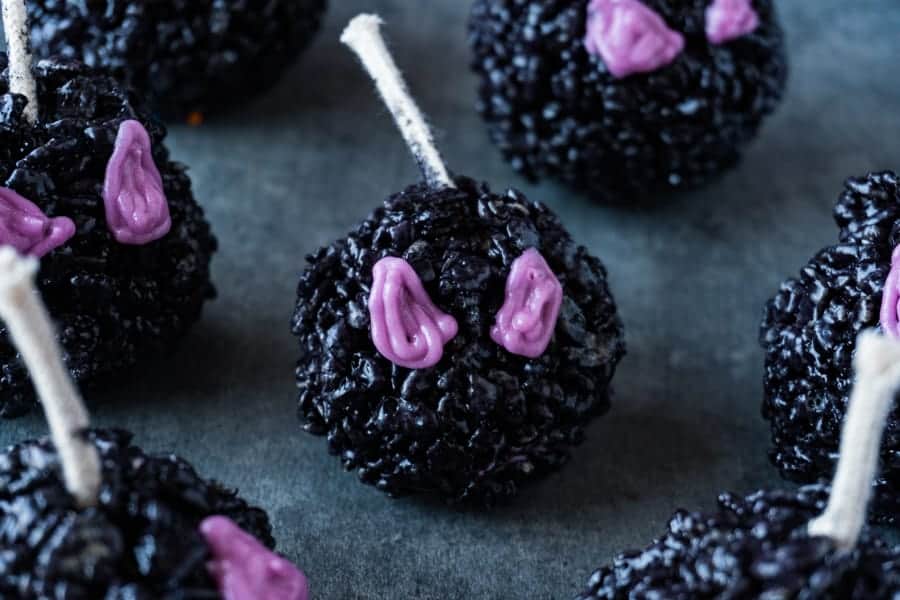 Be careful- this Kaboom Bot Rice Crispy Treat recipe is exploding with awesomeness!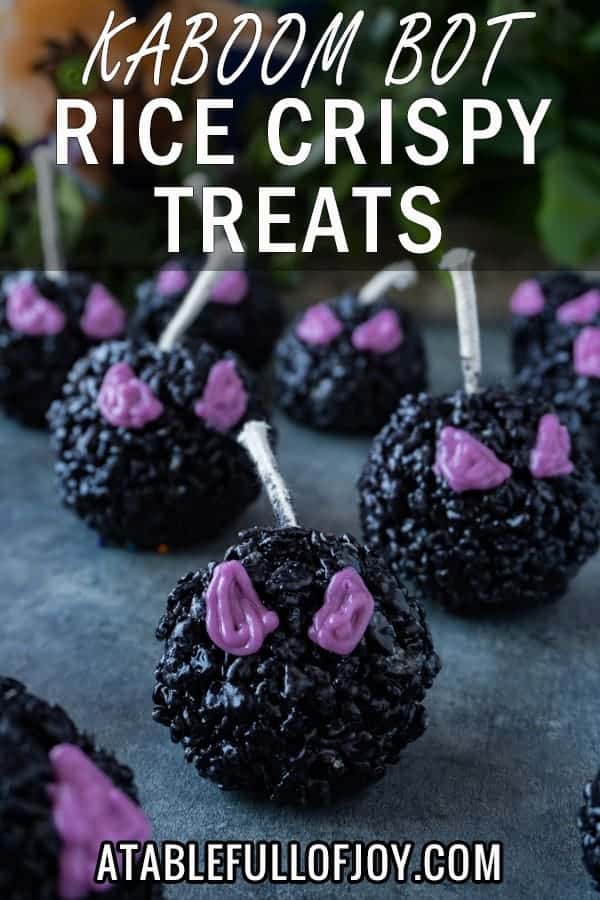 ---
BE SURE TO FOLLOW ME ON FACEBOOK, INSTAGRAM, PINTEREST & TWITTER!
---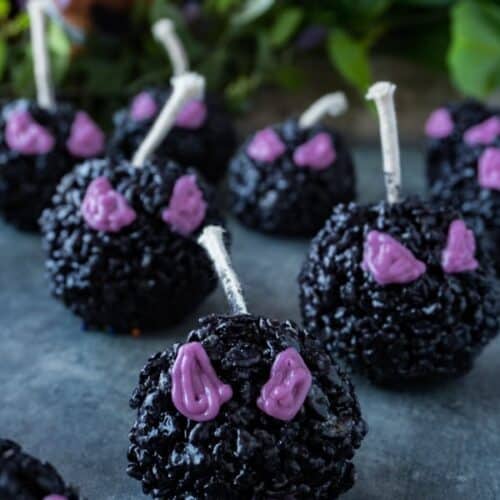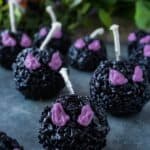 Kaboom Bot Rice Crispy Treats
A spin on the classic rice crispy treat recipe that is BOOMING with fun! Make these for parties or whenever you playing Hearthstone!
Ingredients
3

Tbs

butter plus more for hands

10

oz

marshamallows

6

cups

puffed rice cereal

I used Rice Krispie Cereal
Additional items to decorate treats
Black Food Coloring Gel

Cotton Wicks that don't have any chemicals on them

or some other string cut into 1.5-2 in segments

Purple/Pink Icing and piping bag and writing tip
Instructions
How to make rice crispy treats:
In a medium pan over medium low heat melt butter.

Add in marshmallows and black food coloring. Stir until fully melted. Add enough gel to turn the marshmallows black.

Once fully melted, remove from heat and stir in the puffed rice cereal. After thoroughly mixing, if your mixture isn't completely black add a little more food gel and stir well.

As soon as the rice crispy mixture is cool enough to handle (it doesn't take long to cool!), shape the mixture into balls. It helps to butter your hands before rolling the balls to help keep the rice crispy treats from sticking. I buttered my hands in-between shaping every couple of Kaboom Bots. While shaping, take a 1.5-2 in string/wick and stick it into the ball. Then continue shaping the ball around the wick.

Place shaped rice crispy treats on a parchment lined baking sheet and allow to harden and cool completely for about an hour at room temperature.

While cooling whip up a half batch up my delicious vanilla butter cream and add neon purple coloring to it. If you don't have neon purple simply add in purple and pink food colors until you get the color you want.

Using a piping bag and a Wilton 55 writing tip, pipe on the purple frosting to create the eyes.

Enjoy!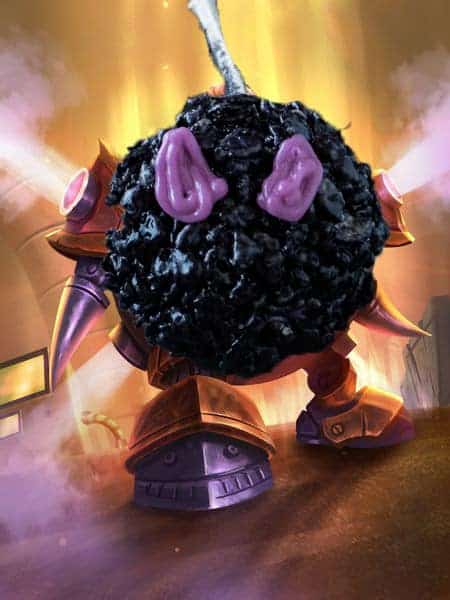 Hearthstone Card Image from Gamepedia
©2014 Blizzard Entertainment, Inc. All rights reserved. Hearthstone is a registered trademark of Blizzard Entertainment, Inc. in the U.S. and/or other countries.
Blizzard Entertainment is a trademark or registered trademark of Blizzard Entertainment, Inc. in the U.S. and/or other countries. All rights reserved.
Thank you Hearthstone for some of the fun items given to me for my pictures!