Print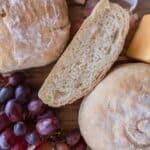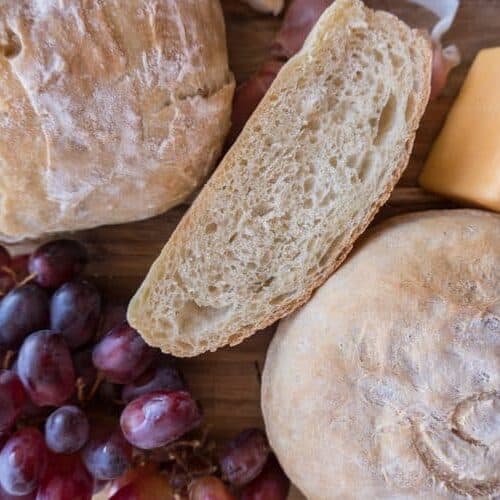 Easy Homemade Bread
This easy homemade bread tastes delicious and will make your house smell amazing! You won't regret making it!
Rising Time
3
hours
10
minutes
3

cups

warm water

1 ½

tbs

active dry yeast

2

tsp

sugar

6 ½

cups

bread flour

2

tsp

salt
In a large bowl combine yeast with warm water and sugar. Make sure the water is no hotter than 110°F or else you will kill the yeast. Let the mixture sit for ~5 minutes, the mixture should get bubbly and foam will appear- this is a sign the yeast is working!

Add the flour to the yeast and mix until just combined. The dough will be sticky. Let it sit for 15 minutes then mix in the salt. Waiting to add the salt allows the yeast to work more efficiently in those first 15 minutes.

Once the salt is mixed in well, cover with a light towel and let rise for ~2.5 hours at room temperature.

Divide the dough in half. Place one half in an airtight container or ziploc bag and place in the refridgerator to bake later. Shape the remaining dough into a rounded loaf, folding the dough under itself to create a smooth top. Place the loaf onto parchment paper. Let the dough rise again for another 40 minutes. If you are baking your second refrigerated half, let the dough rise the for 1.5 hours.

Place a rimmed baking sheet on the bottom rack of your oven. Preheat the oven to 450°F. Ten minutes before the dough is done with its second rise, place a second rimmed baking sheet, on the middle rack, in the oven. You can use a pizza stone but let it heat up for at least 20 minutes.

Once the dough is done with its second rise, sprinkle with flour and slice the top in several places. Slide the parchment with the dough onto the preheated, upside down, baking sheet and pour 1 cup of water into the bottom baking sheet. This will create steam and allow the bread to get a nice crust.

Bake the bread for 20-25 minutes. It should sound hollow and have an internal temperature of 190°F when it's done. Let the bread cool completely before slicing into it or else it will seem undercooked.

Enjoy!
Store baked bread in a ziploc bag or another air tight container for several days. This bread is best when eaten within a few days of baking it. You can keep the dough in the fridge for up to a week and then bake it!
This recipe was adapted from Mel's Kitchen Café Rustic Crusty Bread