Print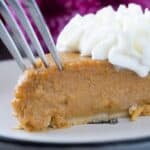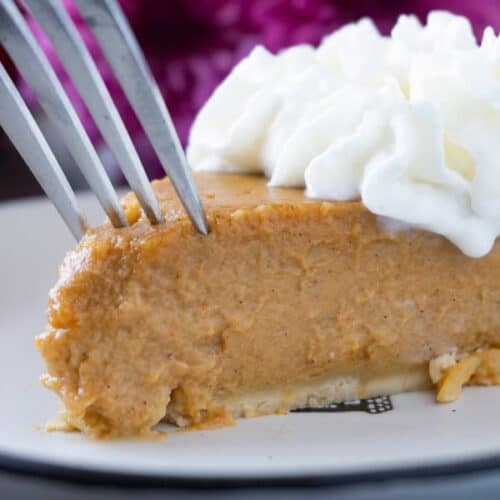 Homemade Pumpkin Pie
The most creamy and delicious Homemade Pumpkin Pie you have ever tasted! Forget the old dense pumpkin pies you are used to- this homemade pumpkin pie recipe is the best there is!
1

cup

heavy cream

1

cup

whole milk

3

large eggs plus 2 large yolks

1

tsp

vanilla

1 15

oz

canned pumpkin puree

1

cup

candied yams

drained or sweet potato puree

¾

cup

sugar

½

cup

packed dark brown sugar

¼

cup

maple syrup

2

tsp

pumpkin pie spice

1/2

tsp

cinnamon

1

tsp

salt

1

store-bought pie crust
How to make pumpkin pie
Prebake your crust. For the pie in the pictures I used a store-bought crust, poked with a fork, and baked at 400°F for 11-14 minutes (until golden-brown).

While baking crust, whisk heavy cream, milk, eggs and yolks, and vanilla together until well combined.

In a large sauce pan over medium heat combine pumpkin, yams, white sugar, brown sugar maple syrup, pumpkin pie spice, cinnamon, and salt to a simmer. This will take 15-20 minutes and you will have to really mash the yams and pumpkin together to create a nice thick mixture.

After mixture is well combined remove from heat and whisk in the heavy cream mixture. Once that is fully incorporated strain the mixture through a fine mesh strainer. This step isn't a must, but it really does make for a very smooth pie filling. I totally recommend it. Use a spatula or large spoon to press the solids through the strainer.

Place your pie pan (with cooked crust) on a baking sheet and then pour the warm filling in the warm pie crust. If both are warm it will prevent the crust from getting soggy.

Adjust the oven rack to the lowest position. Place the baking sheet with the pie in the oven.* Bake for 10 minutes at 400° then reduce oven temperature to 300° and bake for 25-30 more minutes. You want the edges of the pie to be set and the center to be slightly jiggly.

Serve with

whipped cream

if desired and enjoy!
*This helps to move the pie in and out of the oven- trust me- you'll thank me later. Recipe slightly adapted from The Science of Good Cooking Cookbook.