Print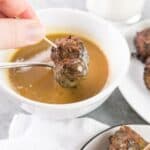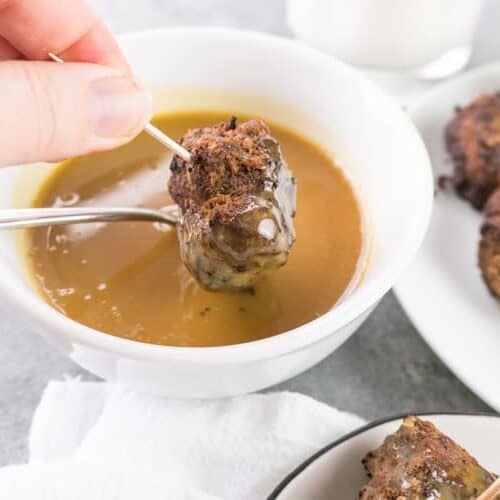 Best Homemade Meatballs with Honey Mustard Dipping Sauce
These easy, gluten free meatballs are great for dinner any day of the week! Dip them in the super easy to make homemade honey mustard dipping sauce and you are good to go!
Meatballs
1.5

lbs

hamburger meat

2

eggs

1

tbs

paprika

1

tbs

chopped onion

dried or fresh

1

tbs

garlic powder

2

tsp

pepper

2

tsp

salt

1

tsp

red pepper flakes

1

tsp

cumin

½

tsp

thyme

½

tsp

nutmeg

½

tsp

cayenne

2

tbs

liquid smoke

1

tbs

Worcestershire sauce

¼

cup

olive oil
Honey Mustard Dipping Sauce
Meatballs
In a small bowl, combine all the dry seasonings.

In a medium bowl, add the raw hamburger, eggs, dry seasoning mix, liquid smoke, and Worcestershire sauce and mix thoroughly. Roll into ~2" balls.

In a large skillet or fry pan, heat oil over medium high heat.

Once oil is hot, place each meatball in the skillet. Turn each meatball every minute or so to brown all sides. After the meatballs look done, cut one open and make sure it is cooked through. If not, go ahead and turn down the heat on the stove top and cover pan with a lid. Let the meatballs cook for several more minutes, checking for doneness.

Once done, dip in sauce of choice (I recommend the honey mustard sauce!) and enjoy!
Honey Mustard Dipping Sauce
In a small bowl stir together honey and mustard.
*I used Dijon mustard for this, but if you only have yellow mustard that works too!