This is one of the simplest and best yellow cupcake recipes ever! It is moist, delicious and these cupcakes are not only filled with sprinkles, but topped with the best chocolate frosting!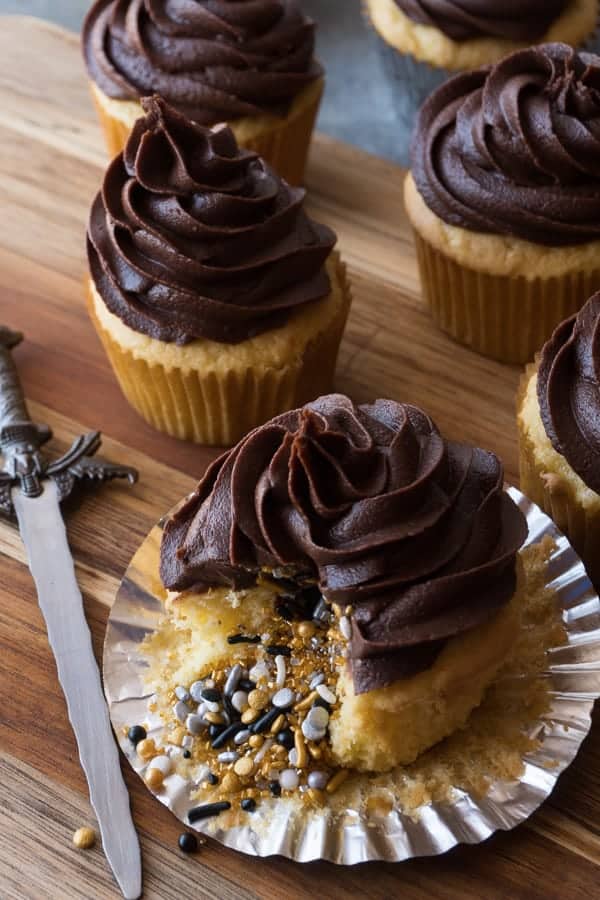 Today's recipe is inspired by Hearthstone's Hidden Cache card! This card is a secret and it buffs one of your minions when revealed!  What kind of loot do you keep in your hidden cache? Gold, silver, weapons?
If you haven't heard of Hearthstone check out my What is Hearthstone? page, where you can read all about this awesome free card game! Make sure to also check out my entire Hearthstone Menu, with more fun themed recipes like, Stuffed Evolving Spores, Sir Finley's Peach Iced Tea, or Nat Pagle's Fresh Catch of the Day: Salmon with Mango Salsa! You'll also find tasty desserts like Golden Pack Card Lemon Cakes and Mini Witchwood Apple Pies!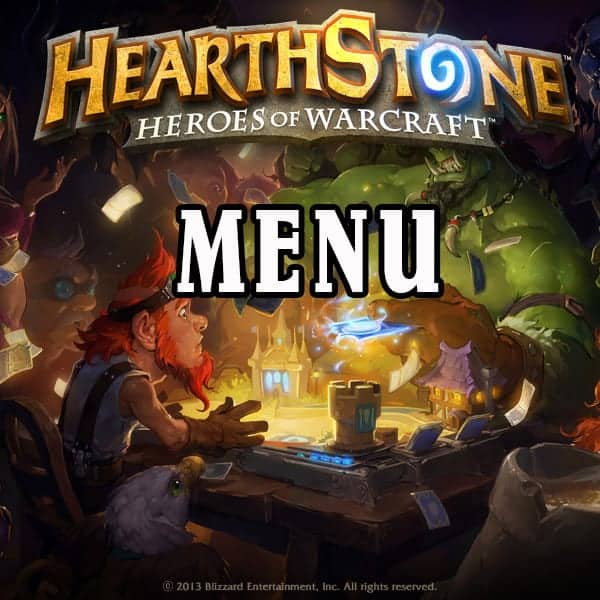 If you want moist yellow cupcakes
than look no further!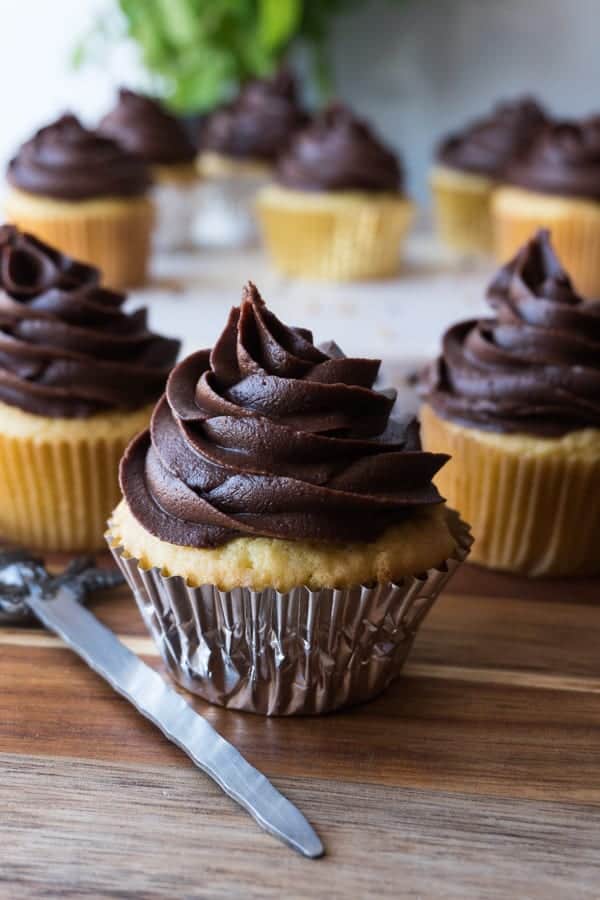 The best yellow cupcake recipe:
To make these cupcakes you will need to combine your boxed cake mix, milk, butter, eggs, and pudding mix.
Put 1/3 cup of batter in each cupcake liner, and bake at 325°F for 12-15 minutes.
Voila! You now have a bunch of delicious yellow cupcakes!

What a second! You use a yellow cake box mix?! That's not from scratch! How can these be the best?!
Just give these cupcakes a chance! Using my sister's awesome method of revamping a box cake mix by adding milk instead of water, butter instead of oil, and adding instant pudding, this box mix is transformed!
If you are a die hard from scratch kind of person no worries! I have another amazing and quite frankly the best yellow cake from scratch recipe I've ever had right here! Either recipe will leave you with something delicious!

Unless I have lots of time, I usually revamp a box cake mix. I did that with my Golden Card Pack Cakes, Strawberry Chocolate Cupcakes and my Cake Pop recipe!  But I have also made my fair share of cakes from scratch! Like my Hi Hat Chocolate Cupcakes, Lemon Cupcakes, and my Grapefruit Cupcakes!
Simple, easy, and delicious yellow cake!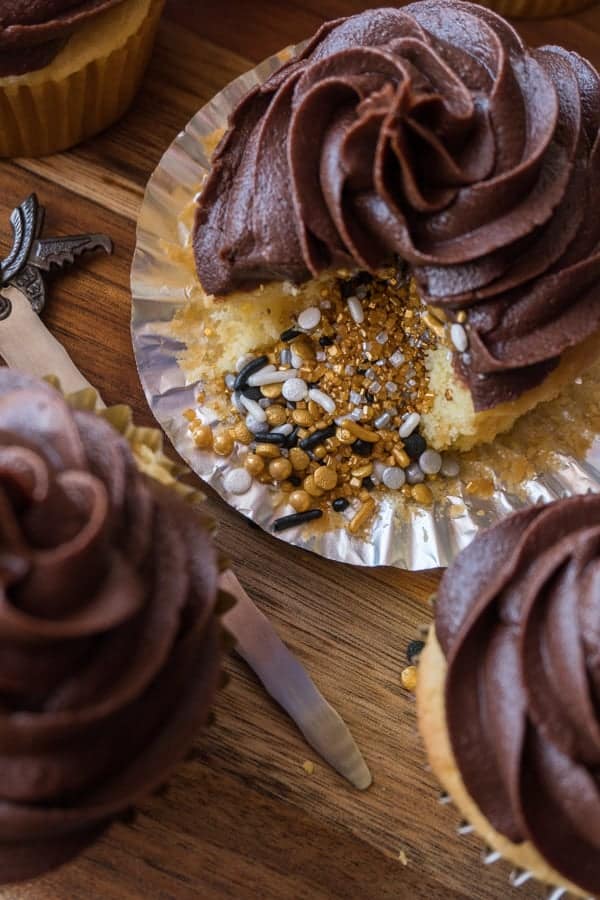 These cupcakes are not only good as is, but I wanted them to fit the theme of the card. So filled them with sprinkles that looked like gold and silver- fun things that someone my store away in a Hidden Cache! Then I topped it off with one of the best chocolate frostings ever! Seriously you have to try it!
P.S. A food photo trick is to add more sprinkles after opening the cupcake up so it gives more of the epic spilling out feeling! So unless you really pack your cupcakes full of sprinkles they might not spill out quite as much as picture- but will be really tasty nevertheless.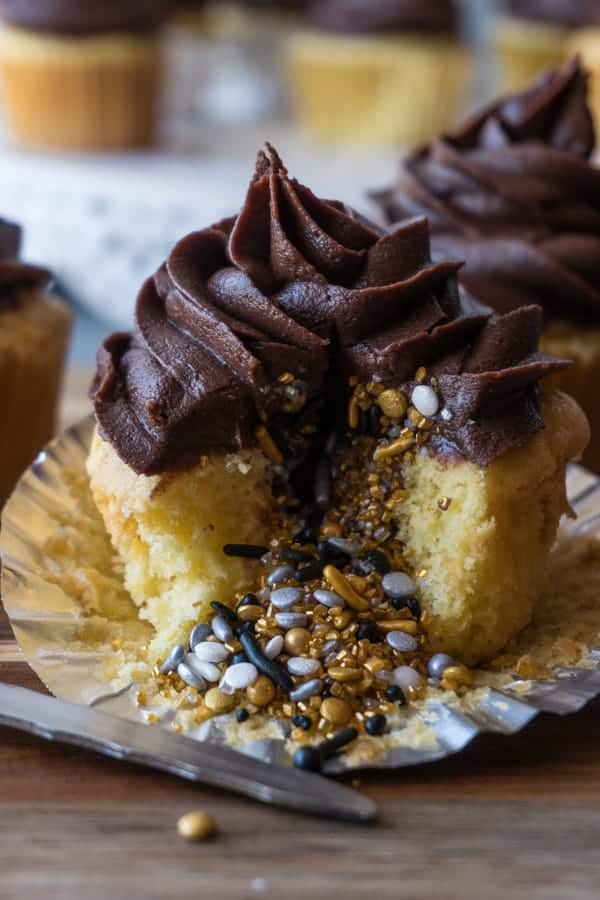 A simple cupcake with filling and topped with a delicious frosting- I might just want to hide these away in a hidden cache they are so good!
Let me know how you like these! Are you a from scratch person or are you fine with a box mix? Let me know in the comments below! Also, don't forget to check out my full Hearthstone Menu!!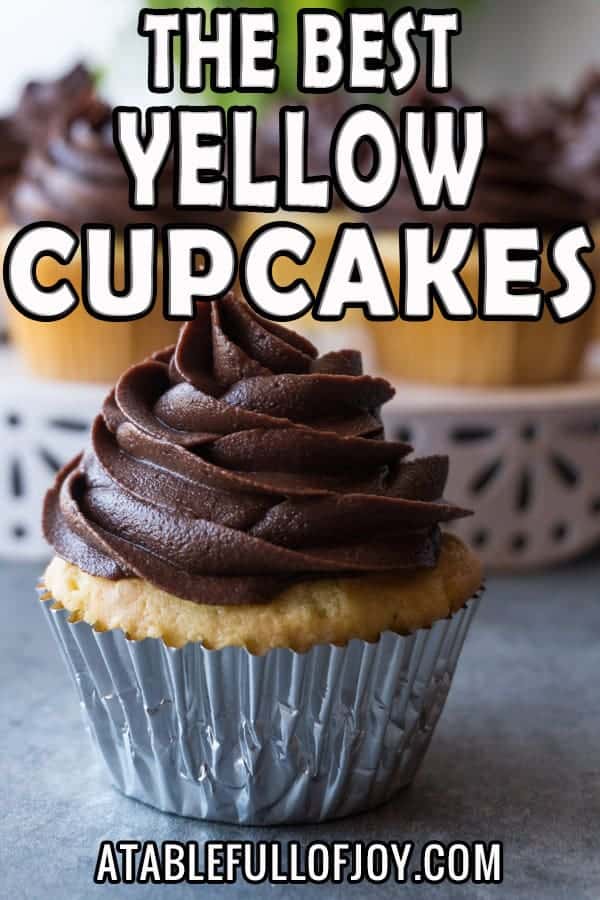 ---
BE SURE TO FOLLOW ME ON FACEBOOK, INSTAGRAM, PINTEREST & TWITTER!
---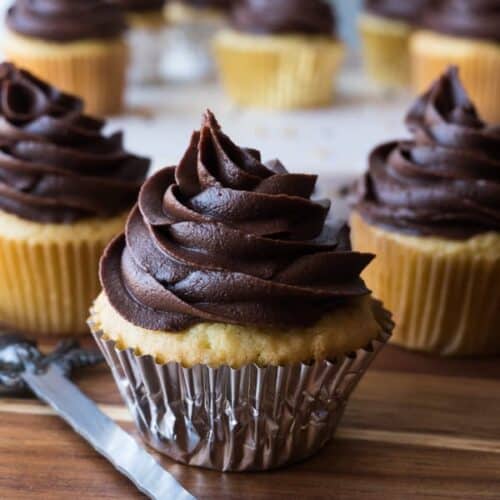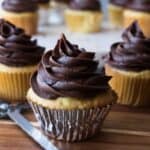 Hidden Cache Cupcakes – Easy Yellow Cupcakes
These yellow cupcakes are quick and easy to make, taste delicious, and are super fun with sprinkles in the middle!
Decorating Time
15
minutes
Ingredients
1

box yellow cake mix

1

cup

whole fat milk

3

eggs

1/3

cup

butter

softened

1

box instant pudding mix*

1

batch of The Best Chocolate Frosting

see link in instructions!

Sprinkles

optional

1M piping tip and piping bag

optional
Instructions
To make the yellow cupcakes:
Preheat oven to 325 and line a cupcake pan with cupcake liners.

Mix together thoroughly the cake mix, milk, eggs, butter, and instant pudding.

Put approximately 1/3 cup of batter into each cupcake liner.

Bake for 12-15 minutes, or until they start to get golden brown on top and a toothpick stuck in the middle comes out clean.

Remove from oven and allow to cool completely.
To make the best chocolate frosting:
Filling and frosting the cupcakes:
Using a melon baller, a small spoon or a potato peeler (like I did!) cut out a circle from the top of each cupcake.

Scoop out some of the middle and then pack as many sprinkles as you can into the center. They can hold more than you think!

Using a 1M pipping tip, fill your piping bag with chocolate frosting. Squeeze the piping bag while going in a slow circular motion, starting from the center of the cupcake and spiraling out and layering upward. This will also cover the hole you made to put the sprinkles inside.

Enjoy!
Recipe Notes
*For the instant pudding mix choose something that is light in color, I recommend vanilla or white chocolate instant pudding mix.
Hearthstone Card Image from Gamepedia
©2014 Blizzard Entertainment, Inc. All rights reserved. Hearthstone is a registered trademark of Blizzard Entertainment, Inc. in the U.S. and/or other countries.
Blizzard Entertainment is a trademark or registered trademark of Blizzard Entertainment, Inc. in the U.S. and/or other countries. All rights reserved.