This homemade brownies recipe is a favorite of mine! The homemade brownies are super chocolaty, gooey and just perfect in every way! The mint candies are a perfect addition, but the brownies don't even need them- they are that good!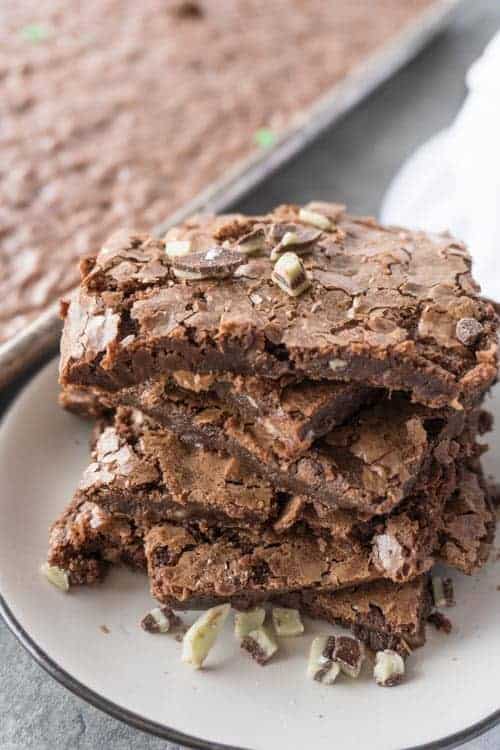 Brownies made from scratch always seem so intimidating! Or at least they used too! These brownies come together in about 10 minutes and you don't need a bunch of fancy items to make them. I know, I know you're thinking, "But you called for cake flour- that sounds fancy to me!"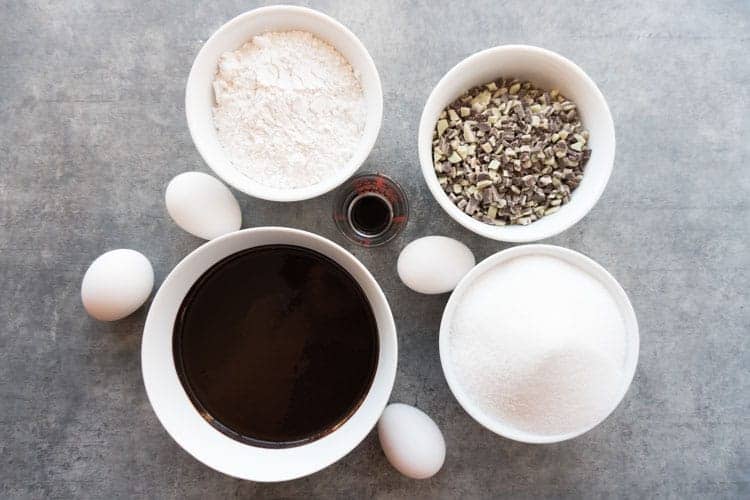 I get it and I would have totally thought that before I knew the awesomeness of cake flour. Once you know, you'll use cake flour in your baked goods too!
What's the difference between flours?
Flours have different protein contents. The protein, when worked in a batter (stirred or kneaded), forms gluten. Gluten makes things chewy. So when you make bread, you use bread flour which has high protein content, about 14-16%. All-Purpose flour has a protein content of 10-12%. It is a good average flour to use for most things and can get most jobs done fairly well. Cake flour has a protein content of 6-8%. This means instead of chewy, the baked goods will be crumbly, soft and oh so good!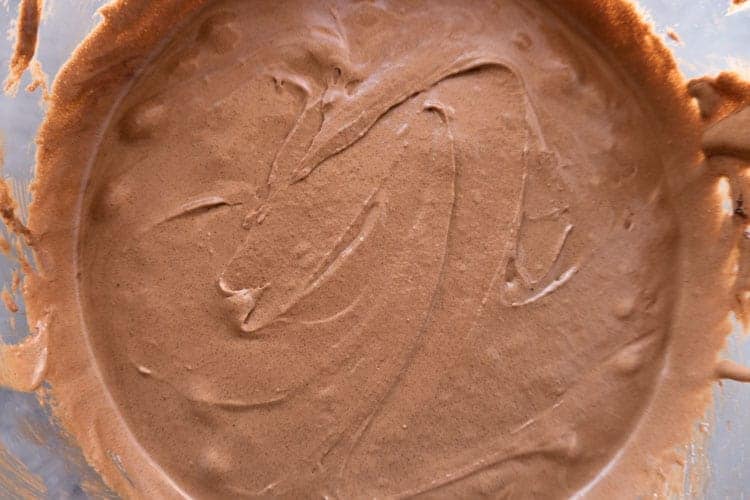 These brownies are very soft. Actually they are really gooey if I'm to be honest. Which sometimes that's just want I want in a brownie. I do let them cool for an hour or two before cutting them. If not they kind of come out of the pan in a sticky but delicious way and don't give you the nice brownie square you might have been looking for. They are still delicious- but maybe not as pretty.
I also like baking these in a sheet pan, but you can use a regular 9×13 baking dish. A sheet pan will make thinner brownies and a 9×13 will make thicker (but you will have to cook them longer!).
This homemade brownie recipe is my favorite!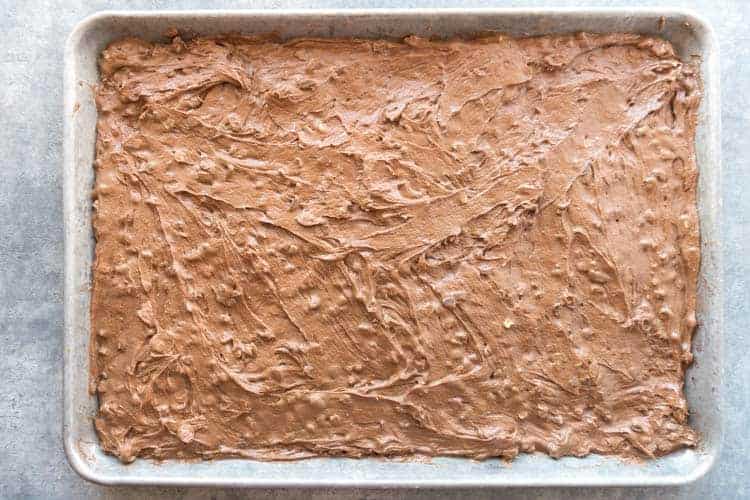 Give these brownies a try and let me know how you like them! Did you add mint pieces or some other candy? Let me know in the comments below!
Homemade brownies with mint pieces! YUM!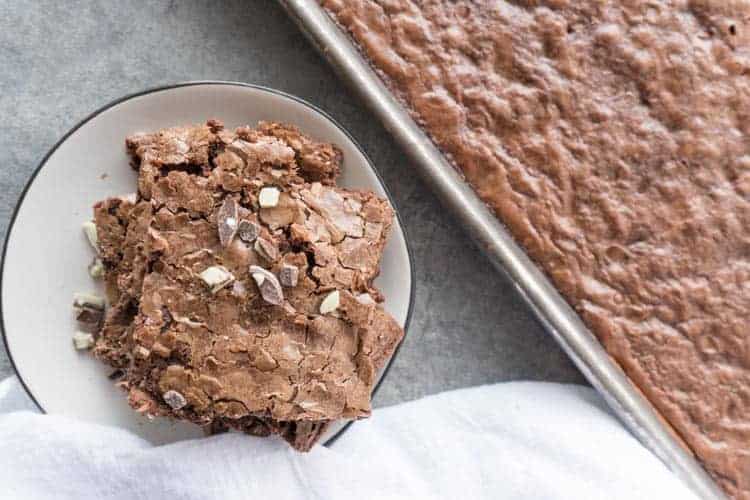 If you like these go check out my brownie bites which are so fun for parties or holidays! I also have some delicious double chocolate cookies and classic chocolate chip cookie recipes! You won't want to miss them!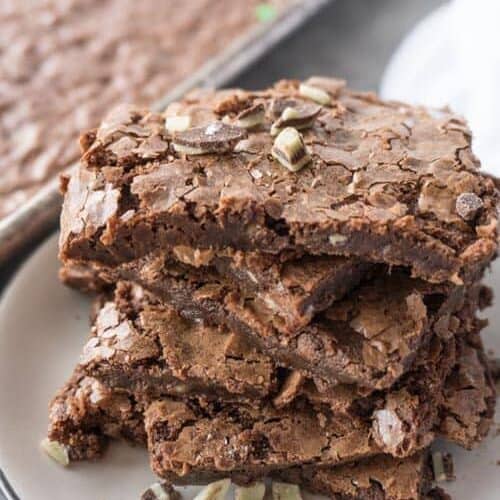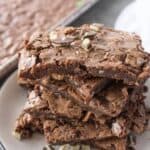 Homemade Brownies Recipe
These easy homemade brownies are so good you won't want to stop eating them! Eat them with ice cream or by themselves! Either way you won't be able to stop eating them!
Ingredients
4

oz

unsweetened baking chocolate

broken into pieces

¾

cups

unsalted butter

1

cup

cake flour*

½

tsp

baking powder

¼

tsp

salt

2

cups

sugar

4

eggs

1

tsp

vanilla

1

cup

chocolate mint candy* pieces chopped

optional
Instructions
Preheat oven to 325°F and spray a large baking sheet or 9x13 baking dish with nonstick cooking spray (or line with parchment paper).

Over medium heat in a medium sized saucepan, melt butter and unsweetened chocolate. You want the mixture to melt completely and become smooth. Once it starts boiling take it off the heat and set it aside.

While butter mixture is cooling, in a small bowl combine the cake flour, baking powder, and salt. Set aside.

In a stand mixer with the whisk attachments, whisk together the butter mixture (it's okay if it's still warm) and the sugar. Add the eggs one at a time, letting each egg become fully incorporated into the batter before adding the next. I usually let about a minute of whisking occur after adding an egg before adding the next one. Once the eggs are all added, mix in the vanilla.

By hand, with a large rubber spatula or mixing spoon, fold in the flour mixture in three separate increments. Folding in the flour will help the brownie batter keep the air in it.

Fold in candy pieces.

Pour into baking sheet and bake for 15-17 minutes or until a tooth pick comes out clean. If using a 9x13 you will cook them for 25-30 minutes.

Let cool for at least 30 minutes.*

Enjoy!
Recipe Notes
*You can use all-purpose flour. *I use the Andes mint pieces found near chocolate chips in the baking isle. *The longer you let these cool the more they will set up. If I am going to be cutting shapes out of these brownies, like for my brownie bites, I let them sit overnight. Otherwise they are a little too gooey and sticky and like to fall apart.