This cake is a lie. Just kidding- but it is the cake inspired by Portal. It's actually one of the best homemade chocolate cakes ever. It's super chocolatey, incredibly delicious, and has one of the best chocolate frostings. You can't go wrong with this!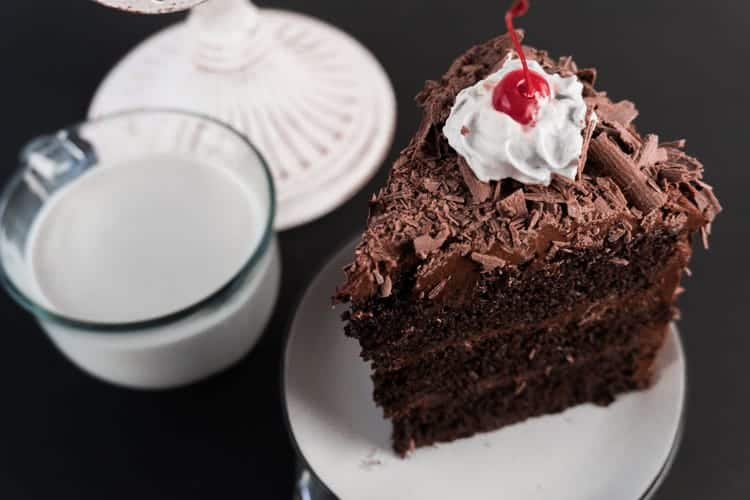 Portal is both a super fun computer game and an interesting board game. I first played the computer game in grad school when my boyfriend (now husband!) took it upon himself to show me the fun game. He insisted I play through the entire game and when I got frustrated or couldn't figure out what to do, he would give me clues to help.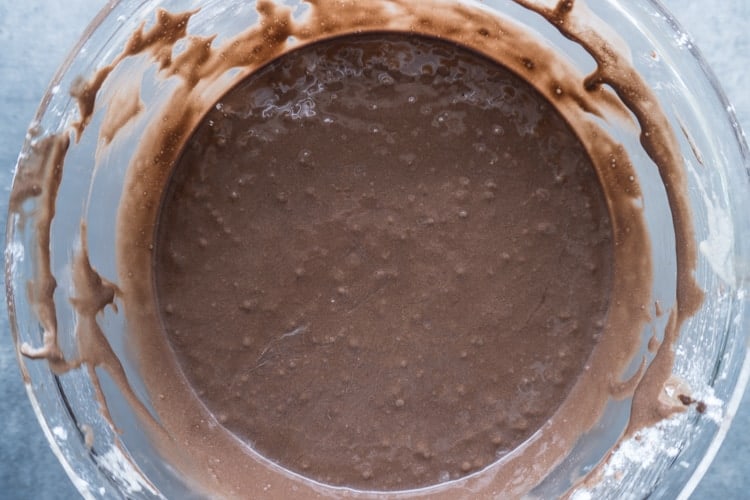 It was a lot of fun! The game is a series of puzzles set in a research and development company. You are told to complete each puzzle and that there is cake at the end as a consolation prize. You use portals to solve the puzzles… hence the name.
This chocolate cake needed a crumb coat before the final coat!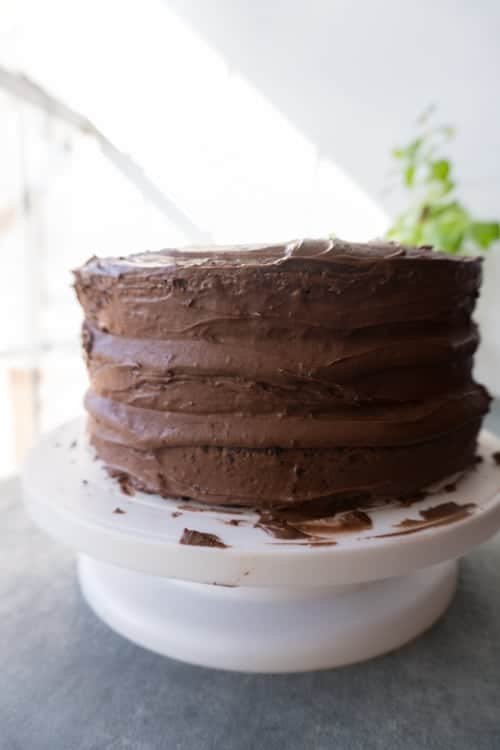 In the game you are being instructed on what to do by GLaDOS (which stands for Genetic Lifeform and Disk Operating System). She comes off trying to help you and promises you cake when you finish, but in reality she is trying to kill your character. So throughout the game you see "the cake is a lie" written on the walls. As if it's a warning to you not to trust GlaDOS.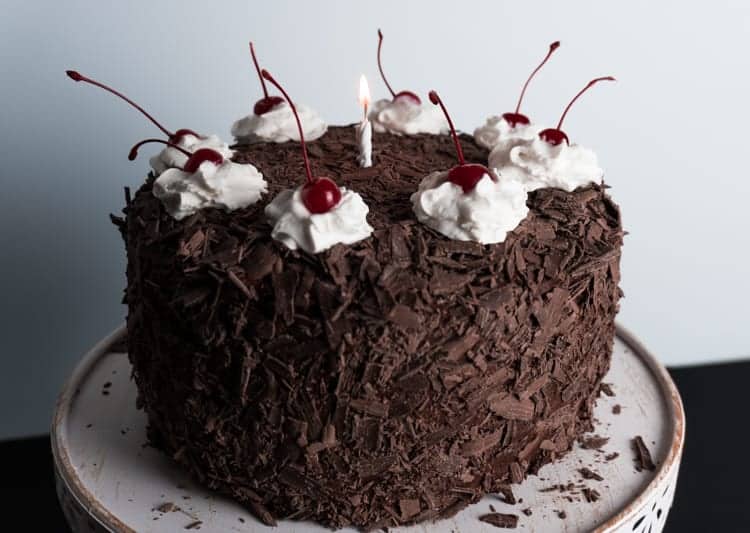 The Portal board game is something we picked on the fly from store that was going out of business.  The game also uses portals and cake as its main themes and is quite fun to play. However, if I had to choose, I'd play the computer game over the board game.
Homemade Chocolate Cake – so good!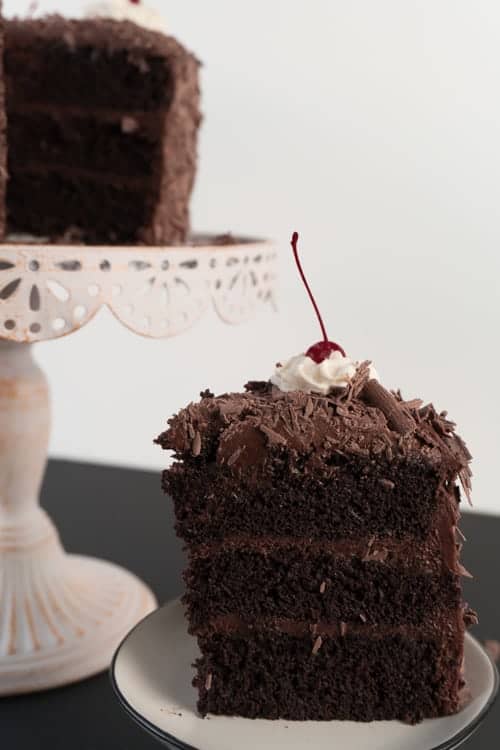 This dark chocolate cake was a lot of fun to make and even more fun to eat- and it wasn't a lie!  It is massive though, so either make it for a party or just be prepared to eat a lot of cake (which isn't a bad thing!) I ended up sending at least half of this to work with my husband and they were very happy to get it! They ate it within one day and told me how much they enjoyed it!
The cake may be a lie in the game, but it's very real here!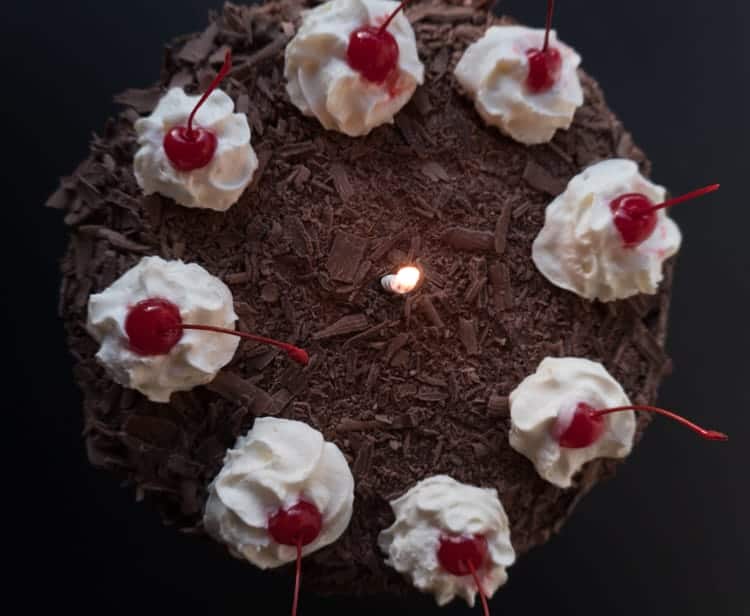 I would definitely enjoy this with a big glass of cold milk.
If you like this recipe check out my chocolate cupcakes with a marshmallow frosting, Star Wars inspired chocolate chip wookie cookies, and my chocolate drizzled popcorn! And did oyu knmow I have a full Hearthstone inspired menu? Check it out!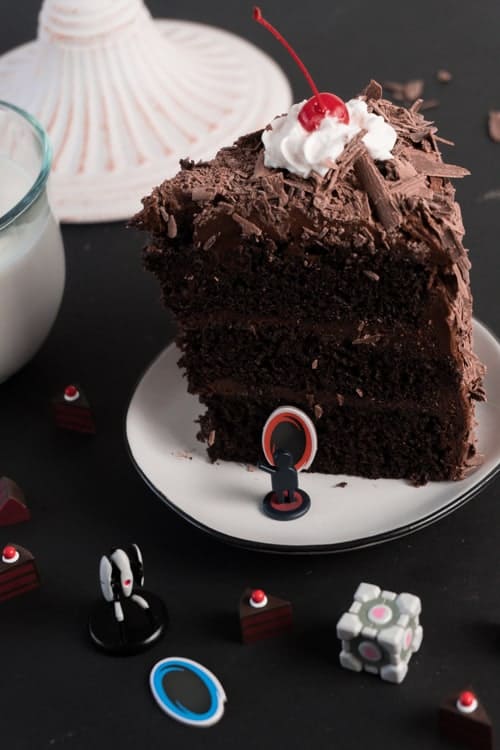 Have you played Portal? Or do you just love chocolate cake? (I am a yes to both obviously!) Let me know in the comments below!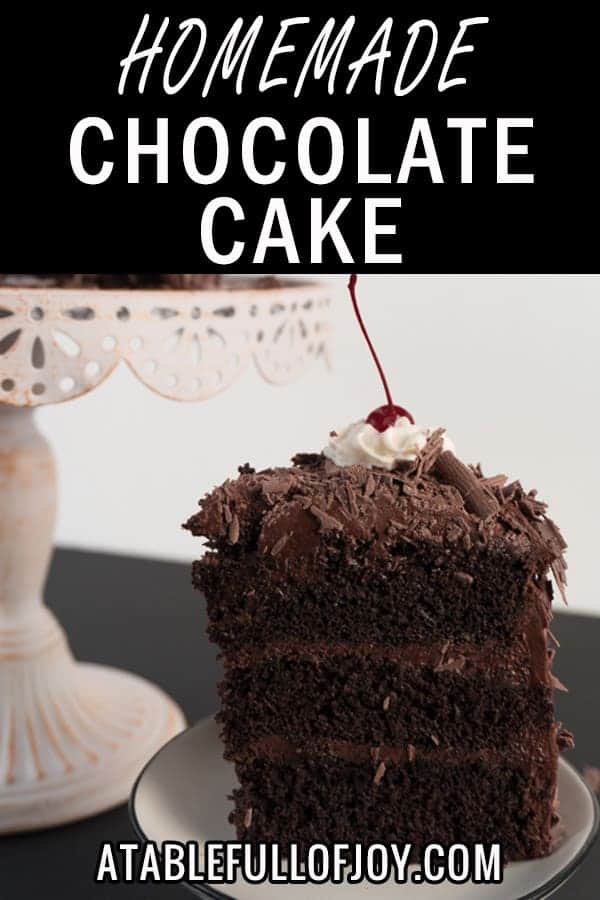 ---
BE SURE TO FOLLOW ME ON FACEBOOK, INSTAGRAM, PINTEREST & TWITTER!
---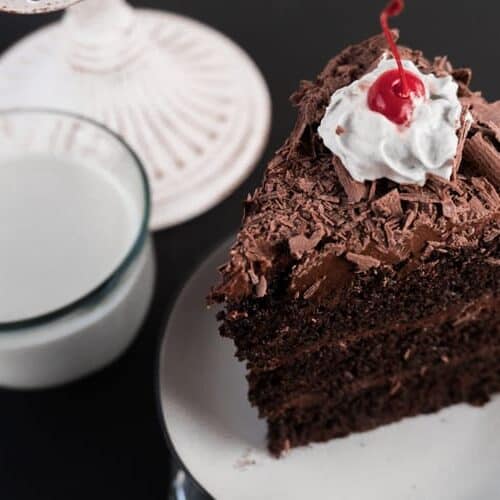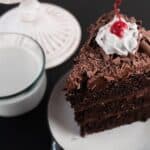 Portal Cake: Homemade Chocolate Cake with the Best Chocolate Frosting!
This homemade chocolate cake is over the top chocolatey and decorated to look like the cake from Portal! It is a three layer dark chocolate cake frosted with the best milk chocolate frosting! It is rich, moist and one of the best chocolate cakes ever!
Ingredients
Best Chocolate Cake
1

cup

unsalted butter

2 2/3

cup

cake flour

1 ½

tsp

baking soda

½

tsp

salt

2/3

cup

special dark cocoa powder*

1

tsp

instant espresso

2/3

cup

boiling water

1

cup

buttermilk

2

tsp

vanilla extract

2 ½

cup

sugar

½

cup

vegetable oil

4

extra-large eggs

at room temperature

2

extra-large yolk

at room temperature
Best Chocolate Frosting- make 3 batches of this!
½

cup

butter melted

½

cup

cocoa powder

3

cups

powdered sugar

1/3

cup

milk 1 tsp vanilla
Portal Decorations
½

block of chocolate almond bark

whipped cream

8

cherries

1

white candle
Instructions
To make the best chocolate cake:
Preheat oven to Preheat oven to 350°F. Butter three 9 inch round cake pans, bottoms and sides, then sprinkle the pans with flour, then cut out parchment in circles to fit the bottom of the cake pans and place those in the pan.

Sift flour, baking soda and salt into a large bowl.

Boil water and add espresso to it, stirring until dissolved.

Whisk cocoa powder, then buttermilk and vanilla into water/espresso mixture.

Using a stand mixer, whisk sugar and butter until fluffy. About 10 minutes.

Add each egg and the yolk, one at a time, into the butter mixture, letting each one fully mix into the batter before adding the next. About 2-3 minutes of mixing in between each egg. Add in oil and mix until fully combined.

Fold in ½ of the flour and then fold in ½ of the buttermilk mixture to the batter. Then fold in remaining flour and then remaining buttermilk mixture.

Bake for 20-25 minutes or until a toothpick inserted comes out clean. Try baking the cakes on the same rack, or baking them one at a time. This will ensure even baking.

Once the cakes are done let them cool completely before decorating.
How to make the best chocolate frosting:
Melt butter in a microwave safe dish.

Mix in cocoa powder. Alternate stirring in the powdered sugar and milk in increments. I like to do 1 cup powdered sugar, 1 splash of milk, stir and repeat.

Stir in vanilla.

Make this recipe three times!

Enjoy!

See notes for more frosting info!*
To assemble the cake
Once cakes are cooled, level them by cutting off any raised dome structures.

Place a little bit of frosting on a cardboard cake round and then place your first layer on top of that.

Add at least ½ cup of frosting on top of the first layer and spread out into a nice thick even layer. Then repeat with the 2nd layer. After you place the 3rd layer on top of the 2nd, frost the cake with a crumb coating. This is a thin layer of frosting over the entire cake that will allow you to frost it beautifully later.

After the crumb coat is on, refrigerate the cake for at least 30 minutes. While the cake is refrigerating, grate your almond bark to make chocolate shavings. I used a cheese grater and grated about half of the large chocolate bar.

After the 30 minutes frost the entire cake in a nice even layer of frosting. Then gently press the chocolate shavings over the entire cake.

Using whipped cream, either canned or homemade (if using homemade use a piping page and tip to get the correct design), pipe on 8 dollops of whipped cream.

Place a cherry on each dollop of whipped cream (it might help to dry the cherries off with a paper towel before placing them on the whipped cream).

Add a white candle in the middle and now you have a portal cake! Enjoy!
Recipe Notes
*I used Hershey's special dark cocoa powder for the cake to make it a dark chocolate cake, but you can use any cocoa powder you have. *I made 3 batches of this to frost the cake. I didn't just triple the recipe and throw all the ingredients together because I wasn't sure if the consistency would be the same. If you do try that and it is too runny just add more powdered sugar ¼ cup at a time until it is to the thickness desired. If the frosting is too stiff, just add more milk, 1 tbs at a time, until it is less thick. I also always refrigerate the frosting after I make it to help it thicken up a bit.
I am not affiliated with or sponsored by the maker's of Portal, Vale Corporation, or Microsoft.