Is there anything more fun than a chocolate dipped marshmallow frosted chocolate cupcake?! These homemade chocolate cupcakes are fun to look at and even more fun to eat!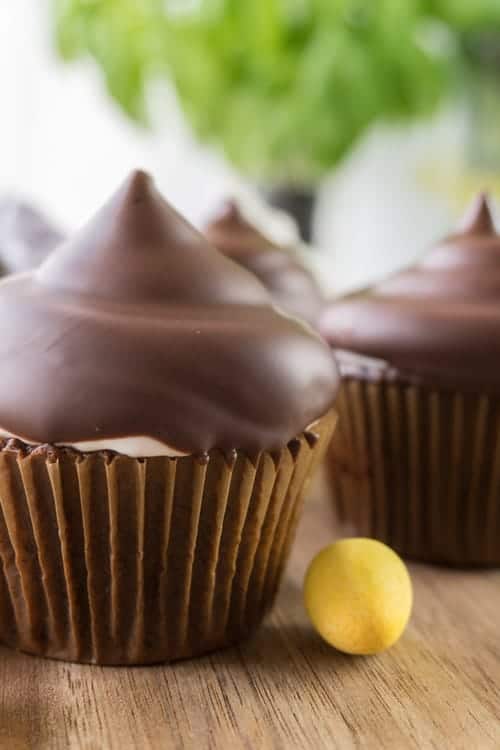 I think cupcakes with marshmallow frosting are also known as Hi-Hat Cupcakes, but before seeing them on Pinterest I had no idea these little beauties existed! Once I saw them, I knew I had to add them to my Dessert Table (check it out for more delicious desserts!)! And oh my goodness, they are so yummy and so fun to make! I love how you can cut down the middle and get a perfect cross section of the cupcake, frosting and hard chocolate shell. Amazing!
Chocolate Cupcakes are my favorite!
Marshmallow Frosting- YES PLEASE!
Something else I love about these chocolate cupcakes is that they have the marshmallow topping! I love marshmallows of all kinds (including Peeps! I know, I know!). And for these cupcakes I thought it'd be perfect to add a little Easter coloring to the frosting for a fun surprise! I left some frosting white, and then dyed the rest light purple and light green. So fun! I also tried out different tips when piping the frosting on because I had 24 cupcakes and I figured why not!
Okay, enough about the frosting, let's talk about the amazing chocolate cupcake. This chocolate cupcake recipe from scratch isn't too complicated and produces a delicious cupcake every time! I've even used this recipe to make a cake before and it was amazing! (If box mixes are more your style that's okay too! I have a super easy boxed cake mix with upgrades recipe too!)
Tips for making these chocolate cupcake recipe from scratch:
I like to fill the cupcake liners only about 2/3rds full so that they have a nice flat area to pipe on the frosting.
Add the espresso powder- it helps bring out more of the chocolate flavor!
If you don't have espresso powder use a little bit of strongly brewed coffee instead
Then to top everything off (pun intended!), I dipped these amazing cupcakes in a chocolate hard shell.
It's the same type of chocolate that creates a hard shell if you pour it on ice cream! Super easy to make too- just melt chocolate chips and coconut oil together and then dip away! I use the refined coconut oil so it doesn't leave a coconut taste, but hey if you like coconut flavor go ahead and use unrefined! Either type of coconut oil will work!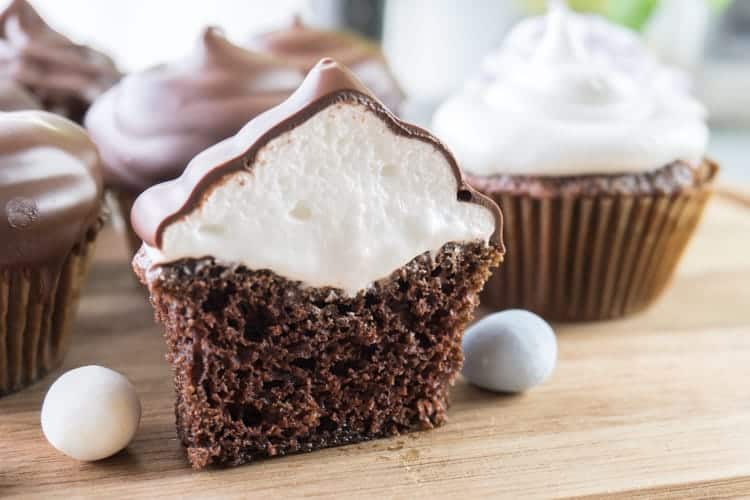 There is something wonderful about eating a cupcake! Am I right?! What's your favorite type of cupcake or cake? Do you love marshmallow as much as me? Let me know in a comment below!
For more awesome desserts (and lots of cupcakes!) check out the Dessert Table! You  will find recipes like gluten free sweet potato cupcakes with a brown sugar buttercream frosting, pinata cupcakes, and the best triple layered chocolate cake!
---
BE SURE TO FOLLOW ME ON FACEBOOK, INSTAGRAM, PINTEREST, TWITTER & SIGN UP FOR MY EMAIL NEWSLETTER!
---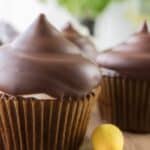 Chocolate Cupcakes with a Marshmallow Frosting
These homemade chocolate cupcakes are delicious and a favorite of mine! They are topped with the most delicious marshmallow frosting and then dipped in chocolate for a fun and yummy treat! These are perfect for holiday's or anytime!
Ingredients
Cupcakes
½

cup

unsalted butter

1 1/3

cup

cake flour

¾

tsp

baking soda

¼

tsp

salt

1/3

cup

cocoa powder

½

tsp

instant espresso

1/3

cup

boiling water

½

cup

buttermilk

1

tsp

vanilla extract

1 ¼

cup

sugar

¼

cup

vegetable oil

2

extra-large eggs

at room temperature

1

extra-large yolk

at room temperature
Marshmallow Frosting
10

egg whites*

2 ¼

cups

sugar

¾

tsp

cream of tartar

2 ¼

tsp

vanilla extract*

Food Coloring

optional
Chocolate Shell
3

tbs

refined coconut oil*

3

cups

chocolate chips*
Instructions
Chocolate Cupcakes
Preheat oven to Preheat oven to 350°F. Line cupcake pan with cupcake liners.

Sift flour, baking soda and salt into a large bowl.

Boil water and add espresso to it, stirring until dissolved.

Whisk cocoa powder, then buttermilk and vanilla into water/espresso mixture.

Using a stand mixer, whisk sugar and butter until fluffy. About 10 minutes.

Add each egg and the yolk, one at a time, into the butter mixture, letting each one fully mix into the batter before adding the next. About 2-3 minutes of mixing in between each egg. Add in oil and mix until fully combined.

Fold in ½ of the flour and then fold in ½ of the buttermilk mixture to the batter. Then fold in remaining flour and then remaining buttermilk mixture.

Bake for 20-25 minutes or until a toothpick inserted comes out clean.
Marshmallow Frosting
Combine egg whites, sugar, and cream of tartar in s heat proof bowl (like glass). Set over pot of simmering water, making sure the bottom of the bowl doesn't touch the water.

Whisk until well combined and frothy. It will be slightly warm. About 7 minutes.

Add vanilla extract and food coloring if using and then transfer to a stand mixer (you can also use a hand mixer). Using the whisk attachments beat the mixture on high until stiff peaks form. About 5-10 minutes.

Pipe onto cooled cupcakes and stick in the fridge for about 30 minutes to help it set up.
Chocolate Shell
Melt chocolate and coconut oil and combine. To melt, microwave ingredients for 30 seconds, and then stir. Microwave another 30 seconds, stir and repeat until everything is melted.

Dip cupcakes quickly into melted chocolate, letting excess chocolate drip off. Once all have been dipped, refrigerate for at least 10 minutes to help the chocolate set up completely.

Enjoy!
Recipe Notes
*I use carton egg whites for this step so I don't have a bunch of yolks separated that need to be used up. *You can use any extract you want to give the frosting some flavor! Besides vanilla, sometimes I'll use almond or even orange extract!*Refined coconut oil doesn't have a coconut flavor, unrefined does and will work for the recipe too- but it will taste like coconut. *I used milk chocolate chips for this recipe but you can use what ever kind you want! 
Cupcake recipe adapted from Mitford Cookbook and Kitchen Reader, Chocolate Cake and Goldilocks Kitchen Marshmallow High Hat Cupcakes
Check out these other delicious desserts: